Map of the Ozarow Cemetery (with numbered positions of matzevot)
List of matzevot

THE OZARÓW CEMETERY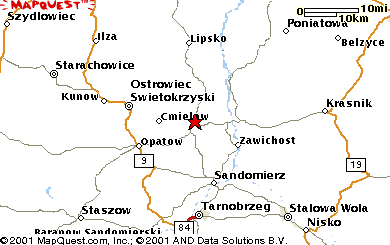 The village of Ozarów is located in Kielce gubernia at 50 degrees 53 minutes latitude, and 21 degrees 40 minutes longitude. The book, Memories of Ozarow, a Small Jewish Town That Was by Hillel Adler, has been recently translated into English from the French by William Fraiberg. An excerpt of that translation was published in the Kielce Radom SIG Journal (Vol.1, No.4, 1997). The book records the bittersweet life of the Jews, before Jewish Ozarów, which had existed since the sixteenth century, was forever destroyed. Thanks to a number of Ozarowers living in Canada, Fraiberg has collected and added new materials, stories and photos to this remarkably readable and wonderful account of shtetl life, including the village characters, the customs, religious life, the humorous nicknames, the jail, the occupations, and the trials and tribulations of the inhabitants just before the war. The book contains additional information on the cemetery. Copies of this wonderful book are available for sale at $55 US plus shipping. Please contact Norman Weinberg at nweinberg@pjcrp.org to order.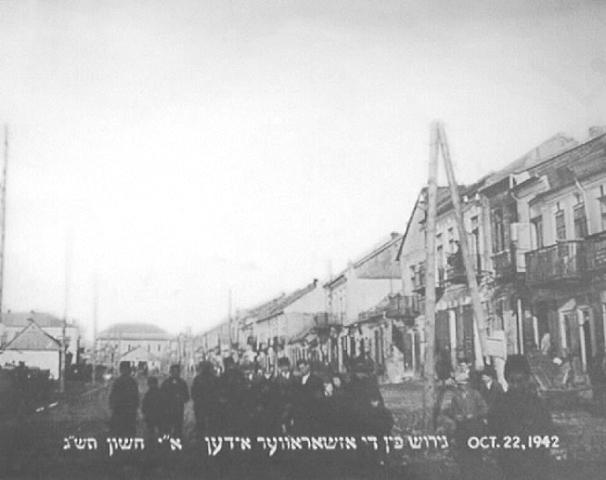 Town of Ozarow, Oct. 22, 1942, just before the deportation of Jews.

We are very thankful to Mr. Zbigniew Dabrowski of Ostrowiec, Poland who mapped the cemetery and numbered and photographed the monuments so that they may be easily located by visitors. We are also very thankful for the efforts of Rabbi Tanchum Becker and Rabbi Yohanan Lederman of Esh-Dat Rabbinical Seminary, Israel for translating and cataloguing the monuments Stones with illegible texts have been catalogued by specific distinctive features. Many of the stones are beautifully carved with characteristic symbols, including those associated with Cohanim (two hands in the priestly blessing), Leviim (water poured from a pitcher), for men usually (several books in a bookcase, a lion or a tree), and for women (an outstretched hand with a donation of coins, a chandelier, or candlesticks).




As was the custom of the time, no surnames appear, only the first name of the deceased and the father's first name. While this is certainly a serious limitation, it may be possible to identify many individuals, taking into account all the clues, including the family information, description of the stone carvings, and the date of death. The most pertinent information is assembled in the accompanying two documents: a list of matzevot and a map of the cemetery with matching numbered positions of matzevots . Many additional stones are partially buried.

No Jews live in Ozarów today, and aside from the restored cemetery, the former synagogue, (now a plumbing supply business), the mill, and the houses, formerly of the Jews, this is all that physically remains of "a small Jewish town" that was.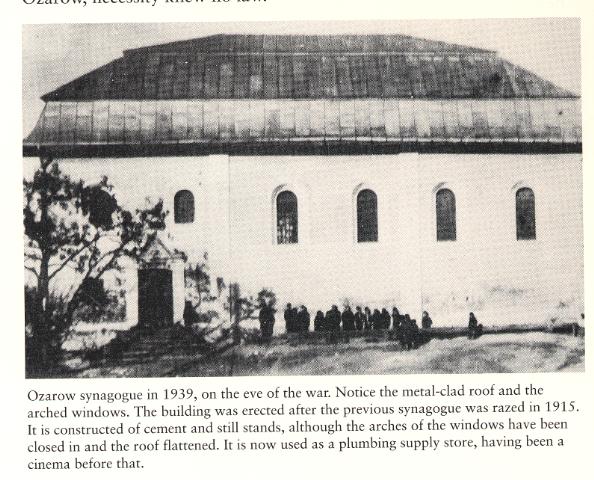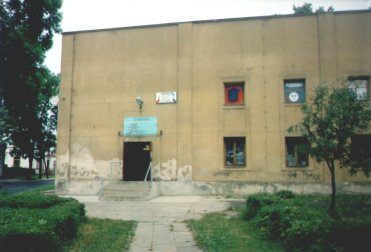 The former Ozarow synagogue as of June 2001