Return to Ozarow-Mending a Broken Link
World Premiere - Warsaw Jewish Film Festival, April 2004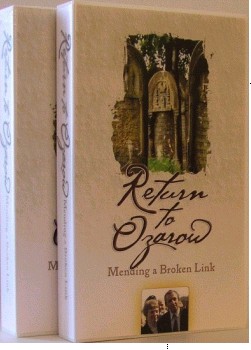 One man's search to discover his roots leads to an extraordinary effort to honor the memory of a lost people and culture in Poland. Norman Weinberg and Jewish descendants of the pre-war shtetl known as Ozarow, unite to restore the Jewish cemetery that had been desecrated by the Nazis and neglected for over six decades.
Before the war, Jews far outnumbered Poles in Ozarow; now there were none. Almost all had been sent to Treblinka. Others, who were rounded up after the deportation, were forced to dig their own grave and shot. Determined to do what he could to honor and remember the dead and those murdered in the Holocaust, Weinberg reached out for help from the town and from other Ozarow descendants worldwide using the miracle of the internet. Their enthusiastic response was immediate. In an extraordinary series of events, five months from the start of the project, the cemetery was restored.
At the dedication ceremony, he and his wife Hannah and other Jewish Ozarowers were greeted by over 500 townspeople, the mayor and the priest, as well as Polish and foreign dignitaries. A moving ceremony followed at the mass grave where the priest and the Ozarower Rebbe, Rabbi Tanchum Becker, a descendant of the famous rabbis of Ozarow, led prayers.
Ozarow has since become a model for Jewish cemetery restoration in Poland, and Weinberg and a team of Poland Jewish Cemeteries Restoration Project coordinators have begun the ambitious task of restoring the remaining 1200 devastated cemeteries of Poland.
This ˝ hour documentary film is available in VHS (NTSC or PAL) and DVD formats. Copies may be purchased for$55 US (includes shipping and handling in the US and Canada only). Make checks or money orders payable to PJCRP, Inc. Copies are available at no charge to Jewish organizations, including Holocaust museums, schools, film festivals, Jewish centers and synagogues upon written request on the organization's letterhead.
For further information or to order copies, write to:
Poland Jewish Cemeteries Restoration Project, Inc.
95 Chasewood Lane
East Amherst, NY 14051 USA

"Jewish cemetery restoration in Poland is about remembering and honoring the dead, and the millions slaughtered in the Holocaust, hundreds of thousands murdered in cemeteries and in nearby forests and buried in mass graves. Jewish cemetery restoration is among the greatest mitzvot one can do, since the dead cannot thank us. It is also about life and the living, about tikkun olam…repairing the world, reclaiming and reconnecting to our Jewish heritage, educating youth, tolerance and reconciliation."
Copyright 2003 Poland Jewish Cemeteries Restoration Project, Inc.
See www.pjcrp.org