Ozarow Matzevot

Translations by Rabbi Yochanan Lederman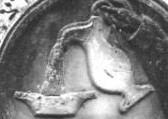 The numbers follow the map of the cemetery which locates each monument.
In this list, the names of nš 13, 18 and 87 were illegible. However, nš 87 has been included for partial information.
The name "ha-Levy" is written after the father's name as shown on the tombstones.
Square brackets indicate speculative reading or Gregorian dates.
Question marks indicate illegible text.
Parenthesis indicate doubtful reading.
Quotation marks indicate partial text from the epitaphs.

---