Letter to Friends of Ozarow #2
June 24, 2001
(Previous communications at: News Release #1)


There is much to report in this Issue: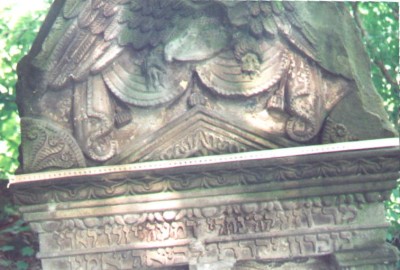 The Ozarow Website:
The Ozarow website is live, thanks to Bozenna Wolosewicz (Marek Lipsztajn's wife). Bozenna worked tirelessly on setting up this intricate site. Do visit the website for updates, since much more will be added in the next few months. Your comments for improvements, corrections, and additions will be greatly appreciated.
Itinerary for Group Tour and Dedication:
Please reserve the dates Sunday October 14 to Sunday October 21, 2001 and let us know your intention soon to travel with us on the guided tour to see many Jewish historic sites in Poland and attend the dedication ceremony in Ozarow. A tentative itinerary has been posted.

Cemetery Site and Status of Construction Work:

On June 19th, our indispensable Polish Coordinator, Stefan Andrzej Omasta found aerial photographs of the site, saw the cemetery walls and determined that there is only one Jewish cemetery. In Sandomierz he found documentation written in 1978 in Polish by Adam Penkalla, a well-known Polish historian. He purchased a copy of this, containing about 130 pages, containing the history and architecture of the cemetery and synagogue, as well as other relevant information. Omasta's son, Lukasz, will translate the work and make it available to the OCRP. On June 20th, Omasta revisited Ozarow. Lukasz took additional photos, including the burial places of the rabbis, measuring 7.5 X 4.5 meters, and the pre-burial house, located on a base of 9 X 4.5 meters. The eastern part of the cemetery contains the mass grave of 80-100 persons.



On June 20th Omasta met with the architect, Mr. Andrzej Wyszynski, who has done other work in Ozarow. He has been selected and upon our receipt and approval of the final estimate this week, surveying should begin very soon thereafter. Wyszynski will also take charge of the wall and gate design, with advice from the Jewish Historical Institute in Warsaw. We have required that the new wall incorporates all the remains of the old wall, strengthened by concrete poles every 8 meters. The remains of the pre-burial house will be lifted to its original height and likewise strengthened. The wall will be over a meter high, but rise in height towards the gate. The gate will be made of steel, with a design somewhat like the steel gate of the Lodz cemetery. The architect will also supervise the work as it progresses. We remain optimistic that the wall restoration, the commemorative monument and the informational plaque will be finished in time for the dedication ceremony.

Omasta learned that the local priest, Father Stanislaw Szczerek is proposing building a parking lot on the property of the church, which could serve both the Jewish and Catholic cemeteries. We may contribute to the parking lot, considering its dual use and the very positive support the priest has given the OCRP.

Permission to Search the Ozarow Archives:


Lukasz has received permission to do genealogical searches of interest in the town's archives, which contain birth, marriage and death records of the past 100 years.

Jewish Historical Institute:


We are very pleased to announce that the Jewish Historical Institute Association (JHIA) in Warsaw has agreed in principle to be the intermediary in hiring and paying the Polish contractors (a formal agreement between JHIA and the OCRP will be signed shortly). JHIA is also serving in an advisory role to the OCRP Coordinators and the contractors, as needed.

How to Support the OCRP:


Additional support is needed to finish the construction work, reset and repair fallen or broken monuments, repair of the Ohel, provide for perpetual maintenance, and a number of other objectives. Please write a note with your check and on the check in the description line please indicate: "For Support of OCRP". You will be sent an acknowledgement letter.

In the USA, tax exempt donations (under 503 C (3)) may be made to:
Esh Dat, Inc.
1318 Avenue J
Brooklyn, NY 11230

For other countries: Please determine the best way to make tax exempt contributions to Esh Dat, Inc. in the USA or Esh Dat Seminary, Israel.

For additional Information:
Contact Dr. Norman L. Weinberg: tel./fax; 716-688-5272; nweinberg@adelphia.net