The Ozarow cemetery dates back almost 400 years. It is one of the few remaining Jewish cemeteries in Poland, with its approximately 100 monuments, standing in solemn testimony to the thriving Jewish community that once was. The search for ancestral roots and the remarkable beauty of the detailed carvings, attracts many visitors each year to Ozarow. The cemetery wall was almost totally destroyed during the War and many of the stones were taken for fortifications by the Germans about 15 km away. For years Ozarowers and their descendants have dreamed of restoring the cemetery walls, erecting a commemorative monument, and repairing and raising toppled stones onto firm bases.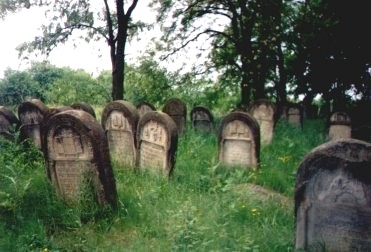 In May 2001, the OCRP Group was formed and with the generous help and assistance of Ozarowers and non-Ozarowers from many countries, funds have been raised for much of the restoration work to begin. The completion date is expected to occur in time for the dedication ceremony in Ozarow on October 15, 2001. The history of Ozarow, the objectives of the OCRP, OCRP coordinators, sponsors, donors and supporters are found on this website.
View of the Ozarow cemetery as of June of 2001.